The North Face Men's Warm Poly Tight – Awesome base layer for high output use
The North Face Men's Warm Poly Tight – Awesome base layer for high output use
The North Face Men's Warm Poly Tight is the ideal light-weight base layer for moderate-high intensity, cold-weather pursuits.
I spent a week skiing in these through a large variety of conditions and was very impressed with their performance. The fabric is 94% recycled polyester with a touch of elastane which allowed the leggings to stretch with me through deep tele turns and wick away moisture well during the skin back up.
They do fit a little on the looser side which sometimes caused the fabric to bunch, however, I thought it added some to the breathability when I was wearing all but the tightest outer layers. The inseam comes standard at 30 in. which will fit most average height users, the caveat is that I am 6'3" and found them to a little short for my liking. Though they did pair well with the height of my ski boots, a long option would be appreciated. 
As for warmth, I thought this layer performed best as a moderate to high output base layer for temperatures in the 0-25 0 F range. Most days out I felt comfortable with my temperature, generally never overheating and only cooling off significantly when standing still for longer periods. I did spend one day in these with an average air temperature of -10 0 F and a wind chill of -30 0 and spent most of the day on the cold side unless I was moving a lot.
The North Face Men's Warm Poly Tight review
For sub-zero days I would look to a different layer or pair this one up with another layer for comfort. If you're looking for a base layer that can stretch and keep up with you on big winter days, the North Face Warm Poly Tights check all the boxes.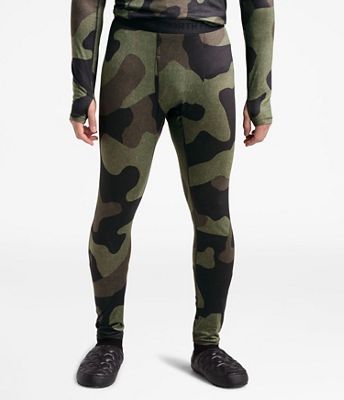 The North Face Men's Warm Poly Tight - Moosejaw

---
A transplant of the Midwest, Austen immigrated to the promised land of western Colorado in 2012 in search of good climbing, deep snow, quality rivers, and a college degree when his goofing off allowed. He learned pretty quick the difference quality gear can make on the outcome of a day (or days) in the mountains and began looking for the best gear to abuse.
In the summer Austen is an avid whitewater kayaker, bouncing his boat down the steep, rocky waterways of Colorado, trad climber in search of the route less traveled, and works as a federal river ranger along the Gunnison River. During the winter Austen spends his time telemarking around the backcountry of western Colorado and working as a ski patroller up on the continental divide.
Austen says, "A hundred days of skiing and paddling each per year and you'll figure out what is wrong or right with your equipment, especially when your lively-hood depends on it." Austen also has his American Avalanche Association Professional Level 1 avalanche certification, EMT-B, and ACA swift-water rescue cert, as well as a member of the Search and Rescue team in Gunnison County for 6 years.