The North Face Women's Purist FUTURELIGHT Jacket – Groundbreaking
The North Face Women's Purist FUTURELIGHT Jacket – Groundbreaking
The North Face's FUTURELIGHT Series is breaking barriers without letting you break a sweat. If breathability and waterproof material had a love child, this is it. The North Face Purist FUTURELIGHT Jacket is a stretchy, lightweight shell and a must-have for your days in the mountains. Between its innovative features and durability, I'm psyched to bring this on my tours. 
What makes the FUTURELIGHT Series so groundbreaking is the material. It is 93% recycled nylon, 7% elastane with a tricot backing, and is designed for maximum breathability and minimal water permeation. The #5 YKK® AquaGuard® center front zipper keeps the water at bay, while the two extra-large chest pockets can hold your belongings or be opened for ventilation. In addition, these chest pockets have a loop to clip your radio to on the inside.
Further, there are two pockets on either side at the bottom of the coat to hold your smaller items (I'm thinkin' lots of snacks). Another ingenious addition is the pass-through zipper to access mid-layer pockets. This feature can be used to access your beacon without having to take the jacket off. On each side of the collar is a radio clip to keep it secure and in a convenient spot. 
For the deep powder days that we all crave, this jacket has a four-way stretch, articulated powder skirt that moves with you instead of restricting your movement. The burly wrist cuffs have a wide velcro strap to make them tighter and even has integrated thumb loops to minimize draft. 
Although I usually fit into a small, I opted for a medium because I like jackets with a slightly larger fit so I have room for lots of layers without feeling claustrophobic. I think the medium hit the nail on the head. It is true to size so if you don't like your jackets baggy I'd stick with what you usually wear. The arms are a great length and the back is long enough to keep the snow from going down your pants. The hood is helmet-compatible, another superb feature to keep the elements from invading. 
The North Face Women's Purist FUTURELIGHT Jacket
Weighing in at just over a pound (21.16 oz / 1.3 lbs), this jacket is made for light expeditions. Finding a waterproof jacket that isn't bulky can be tricky so I am pleased with the slenderness of this product. The casual fit and unparalleled stretch of the Purist Jacket isn't restricting.
As a telemark skier this is something I see as a necessity because of the dynamic nature of the sport. Whether I'm poling through a flat section or making turns, I need a jacket that can protect me from the elements without limiting my movement. I have found that in the Purist FUTURELIGHT. 
The North Face Purist FUTURELIGHT™ Jacket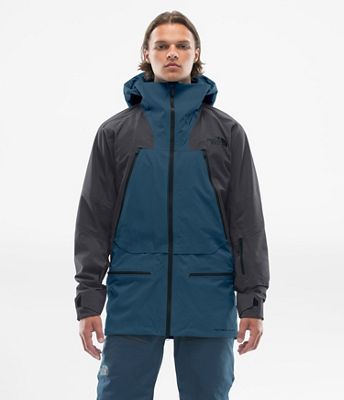 The North Face Men's Purist FUTURELIGHT Jacket - Moosejaw
---
Growing up snowboarding and hiking in the bitter cold winters and humid summers of northern Vermont, Eliza learned how to beat up gear and quickly became infatuated with new technologies. After moving to Colorado in 2015 to pursue a degree in recreation and outdoor education at Western Colorado University, her passion for the outdoors grew exponentially. Soon after, she picked up rock climbing, telemark skiing, backpacking, canyoneering, and is slowly learning to love rafting. Through these learning processes, Eliza began to understand the importance of the right gear and hopes to share her experiences and knowledge with others through Engearment.
Now working for Beacon Guidebooks as the 'Wearer of Many Hats' (yes, that is her official title), Eliza has learned the ins and outs of the outdoor industry. She has also worked on marketing teams, as a photographer, media coordinator, outdoor instructor and as a wrangler. She is especially excited to encourage other women in the outdoors and is an advocate for diversity and inclusion.