BCA Snow Study Kit – Essential and Powerful Backcountry Toolkit
Why study snow? Let's start by saying riding the backcountry will never be safe; there are always plenty of hazards to come to terms with. Mitigating those risks is a large part of riding in wild places, after-all, there is no one else to do that work for you. The BCA Snow Study Kit $119 is a great tool for this!
Avalanches are one of the hazards with which we have to contend. The good news is avalanches have a recipe, and if any of the four ingredients are missing, they do not happen. First, there needs to be a slab of snow, which has to be sitting on a weak layer, with a slope steep enough to slide. Then there has to be a trigger. In slides that catch people, usually, someone in the party acts as the trigger. 
BCA's snow kit provides the tools necessary to start the journey of becoming a snow geek. In particular, it helps to assess three of our ingredients – slope angles, weak layers, and cohesion of slabs in the snowpack. 
When you are new to this, it pays to focus on the one thing you can control – your terrain choice. You do this by being hyper-aware of the slope angles that you are on or beneath. 80% of avalanches occur on slopes between 30º and 45º. You can minimize the risk of an avalanche if you keep your angles below 28º.
BCA Snow Study Kit – What is in it?
The kit includes an inclinometer, which is, I believe, the price of admission for touring. Use it often. Ask your friends what they believe the angle of a slope to be. Tell them what you think it is, and then measure it. Repeat this ad-nauseum throughout every tour. The more you do this one thing, the quicker you will gain Yoda status. Snow Sensei can look and know if a slope is steep enough to produce an avalanche. You will too if you practice.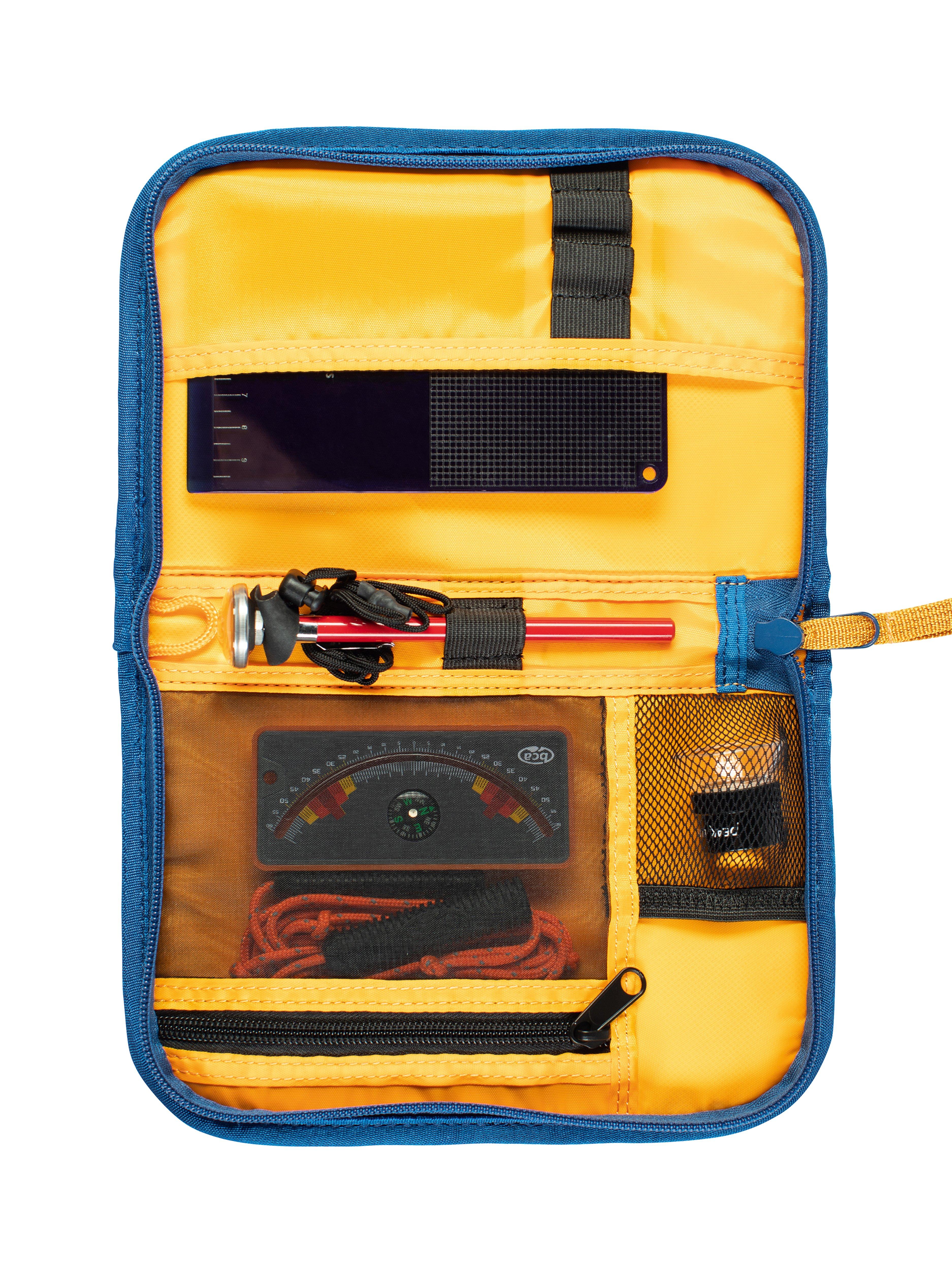 Snow Study Kit | Backcountry Access
Once you feel happy with recognizing avalanche terrain, it is time to start figuring out if the snowpack can produce an avalanche. This takes a lot longer to begin figuring out. I highly encourage investing a lot of time in reading, attending courses, talking things through with your partners, checking the local avalanche advisory reports, and best of all, finding mentors. You will want to start studying snow at some point, and this kit contains most of what you need to do this.
The crystal card and Loupe (15x magnification) allow you to scoop up snow and look at the crystals. What we are trying to figure out is, are the crystals bonding together? The shape of the crystals can give a lot of clues. They are also beautiful. 
The thermometer tells you the temperature at various depths in the snow. If the temperature changes significantly throughout the snowpack, then the structure of the snow will be changing. Again advanced avalanche courses will tell you more, so you can make the most of this information.
The handy dandy knotted cord with handles is a tool for cutting your test columns' back and isolating them. Learning and practicing the various tests will give you hours of fun. They also help confirm or debunk the hypothesis you created earlier when researching conditions and choosing a suitable slope to ski. This is a good time to thank the local avalanche information centers for all the data they share daily. It needs noting that a snow pit or stability test gives you more information. They are not in themselves an individual indicator of whether you ride or not. This comes from cross-referencing all the data. 
It is worth adding a few extra items to your kit. Firstly, a field book is where you collect all the information from your pits and observations. If you want to accelerate your learning, this is the single best way to do it. You will need a pencil or pen as well.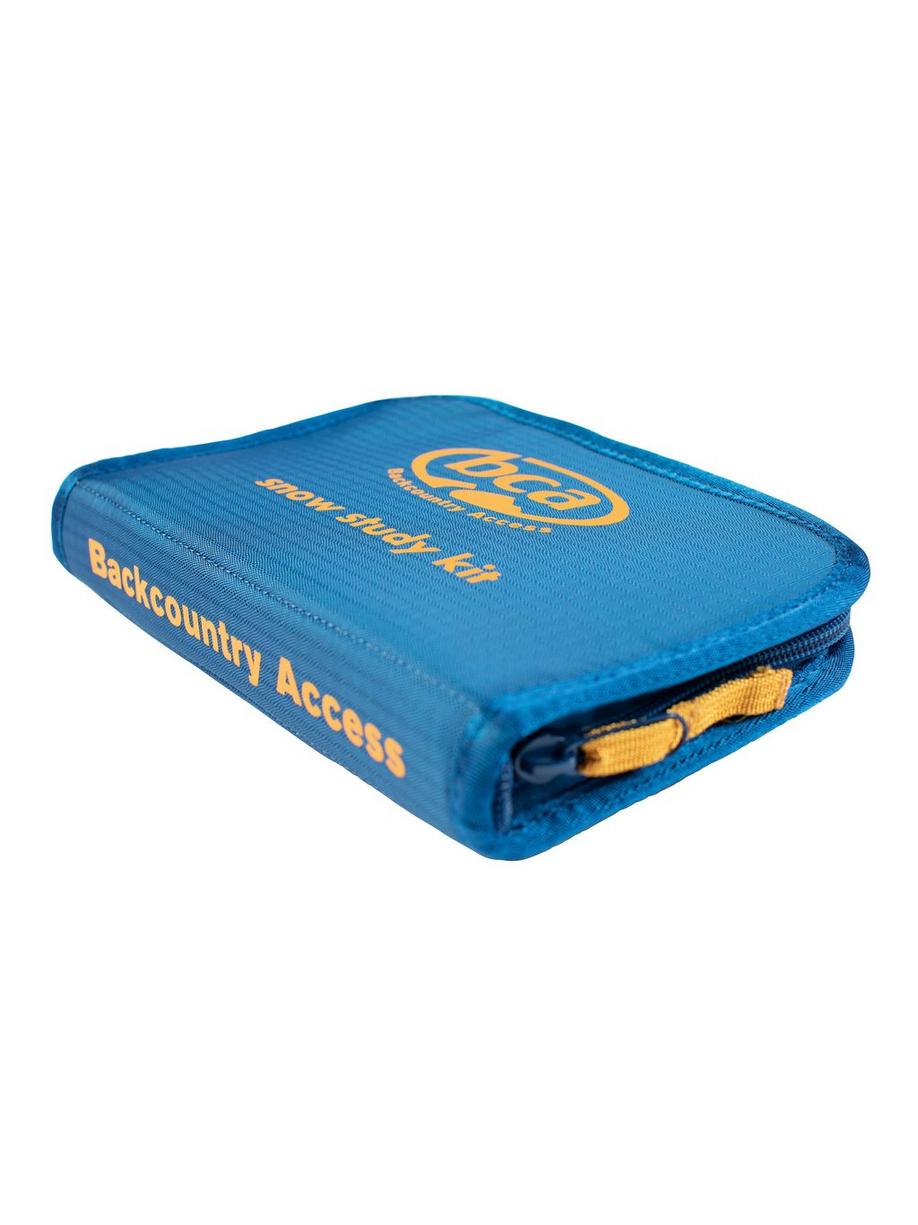 Snow Study Kit | Backcountry Access
Secondly, I keep a 2″ paintbrush in the kit for sweeping the front of my inspection pits. I can find a lot more layers this way. And don't forget your beacon, shovel, and probe. The shovel you will use for digging and cleaning your pits. Firstly, the probe is equally handy as a tool for finding a representative place to study and then as a measure for recording the depths of layers.
Do you need one of these? If you take learning about being smart when riding snow seriously, I say a resounding yes. At the beginning of your journey, you will focus mainly on the inclinometer; as you learn more, you will use the rest of the tools.