Mammut Aenergy Pro Hooded Softshell Jacket – A Great, Simple Jacket
Mammut Aenergy Pro Hooded Softshell Jacket
I tested the Aenergy Pro Jacket over several weeks in skiing the Colorado backcountry, as well as a few cold, stormy days, ski patrolling and was very happy with how the jacket performed in a variety of conditions. I found the Mammut Aenergy Pro Hooded Softshell jacket to be a great outer layer for warmer, or high output days in the snow as well as a versatile layering piece for harsher weather days. So, let's get into the details.
Out of the box, it's apparent the Aenergy Pro is a no-frills, light-weight, built for speed kind of jacket with simplicity and pure function in mind. The jacket comes with two front pockets, set high for harness (or even backpack waist strap) compatibility, a single hemline cinch-cord, and a hood cinch-cord.
Aenergy Pro SO Hooded Jacket - Men's regularly $279.00 on sale $224.99
That's it for bells and whistles, let me reiterate simplicity and function is the game with this jacket. The hood does have a bit of rigidity to keep it from drooping over your face and is manageable over a climbing helmet, but it's a bit tight with anything more, and the main zip will bring the neck cover just up to chin height for more coverage.
One interesting feature I noticed is that the sleeve cuffs have no cinch, they're plain cuffs similar to a long sleeve shirt. This annoyed me at first, but after thinking about it more, it does fall in line with the intended use of this jacket, which again is simplicity and speed.
As for the softshell fabric, Mammut uses its patented SOFtech material which is 92% Polymide and 8% Spandex for some added stretch, with added reinforcement panels in high abrasion areas along the shoulders and forearms of the jacket.
Ok, so how does it fit? The Aenergy Pro is a very athletic fit, i.e. its form-fitting, perhaps even a little tight if you're not used to outerwear like this, and I would go as far to say that if you're on the heavy side this jacket might not be the best for you, or at the minimum, you should consider going a size up.
All that being said, I do believe that this is the intention of this jacket, to fit close without extra fabric and weight. I am 6'3" and 180 lbs. and I wear a men's large in this jacket with usually one-layer underneath comfortably, although I had a few very cold days when I wore two layers under the jacket and still felt like I had enough space even with my beacon-harness on.
Being tall and slim, I am often concerned with the length of clothing, as it seems like I can find enough length in XL sizes, but too much torso fabric or I can get a better torso fit with a Large, but end up short in the sleeves and hem, not so with the Aenergy. In the men's large I was very pleased with sleeve and hem lengths, and could use the full range of motion without having sleeves or waist pull up short; if you're tall and lanky like me this jacket will still fit great for you.
In action is where I think the Aenergy Pro really starts to shine. My first time out in this jacket I was getting a skinning workout in before work at my local ski hill, with an air temp. of -5 F and a slight breeze – very cold. Usually, I can't skin in any shell without sweating a getting soaked even in that kind of cold, however, that morning keeping a solid pace I noticed almost no moisture build-up and great temperature regulation in the jacket, wearing it the whole time.
On following warmer tours/days, I usually would have to take it off after warming up, but it almost always lasted longer than I would in my other shells, a testament I think to the Aenergy's breathability.
My one major complaint with this jacket and something that seems would fit perfectly in line with the intention of this shell, is that it does not have pit zips to let heat out. I think with pit zips it would be much easier to keep the shell on longer, reducing the number of transition/stops for layering, and allowing more efficient movement in the mountains, which seems to be the design goal of this jacket.
Along with being the great active outer shell, it was designed as, I also used it for several exceptionally cold, stormy days ski patrolling in Colorado as an extra layer just underneath my patrol hardshell.
Though maybe not the first intention of the Aenergy's design, it worked great as a layering piece due to its athletic fit, slipping under other shells nicely, and also seemed to work well as a wicking/breathing interface between base layers and my Gore-Tex shell. Since it is still a shell and not a true base layer, it did wonders in keeping the wind and moisture out on those heinous days when paired with a true hardshell.
As a stand-alone piece, I thought the Aenergy's water resistance was on par with most high-quality softshells, but still wouldn't be my first choice in a rainstorm. It shed moderate snow pretty well without sacrificing breathability as most hardshells do, and could take the occasional splash or spilt water bottle without completely ruining your day.
For you ice climbers out there, I would be hesitant to bring this shell out on some of those wet/running water routes or days, though many shells have a hard time with those conditions, however, the Aenergy Pro would be great multi-pitch/alpine layer where you're not able to stop and change layers often and are moving pretty consistently throughout the day.
Mammut Aenergy Pro Hooded Softshell Jacket Review
So my conclusion, the Mammut Aenergy Pro Hooded Softshell Jacket is a perfect outer shell for active days in the mountains skiing and climbing, excelling at high paced winter pursuits. It's sleek and simple, no-frills designs lets you focus on the days objective rather than fiddling with extra pockets and straps.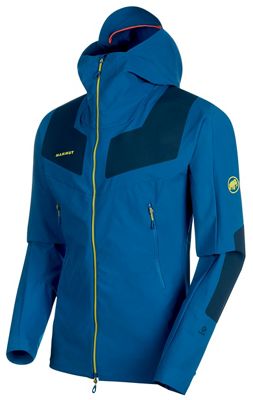 Mammut Men's Aenergy Pro SO Hooded Jacket - Moosejaw
If you really want to feel fast on the uphill without committing to a skimo spandex suit, pair up Mammut's Aenergy Pro jacket with their Aenergy Pro pants; check out the softshell pants review here https://engearment.com/clothing/mammut-mens-aenergy-pro-softshell-pants/.
---
A transplant of the Midwest, Austen immigrated to the promised land of western Colorado in 2012 in search of good climbing, deep snow, quality rivers, and a college degree when his goofing off allowed. He learned pretty quick the difference quality gear can make on the outcome of a day (or days) in the mountains and began looking for the best gear to abuse.
In the summer Austen is an avid whitewater kayaker, bouncing his boat down the steep, rocky waterways of Colorado, trad climber in search of the route less traveled, and works as a federal river ranger along the Gunnison River. During the winter Austen spends his time telemarking around the backcountry of western Colorado and working as a ski patroller up on the continental divide.
Austen says, "A hundred days of skiing and paddling each per year and you'll figure out what is wrong or right with your equipment, especially when your lively-hood depends on it." Austen also has his American Avalanche Association Professional Level 1 avalanche certification, EMT-B, and ACA swift-water rescue cert, as well as a member of the Search and Rescue team in Gunnison County for 6 years.