Thoughts on a Foundational Layering System and why I love my Icebreaker
A detailed review on the Icebreaker Incline Cool-Lite Incline Windbreaker and Icebreaker BodyfitZONE 260 Zone Long Sleeve Half Zip Hood
Have you ever been passed on an Interstate by an unassuming and modest-looking car? As it leaves you in the dust you notice the twin pipes and wide tires. You wonder what is under the hood. Welcome to the Icebreaker Cool-Lite Incline Windbreaker. The real deal clandestine boy racer of jackets but more on that later.
Since I can remember I have been teaching my students to layer. I recall as a young climber cutting the feet off some of my mother's old woolen tights to use as thermal underwear. This was the reason I was so excited to graduate to my "Smelly Helly (Hansen)'s". Both the poly-pro skin layers and the navy pilled fleece. Back then it was the uniform of British climbers. Along with breeches (knickers) or Ron Hill tracksuit bottoms (pants). Over the years I have gone over to synthetic a few times but I keep on coming back to wool. Sometimes I retired thin lambswool and Angora dress sweaters to the outdoor wardrobe. I loved it when they got ratty enough to do this. But let's be honest material technology for outdoor clothing has come a long way since the early '80s. Now I can carry less bulk, be less restricted and still be warmer, drier and more comfortable. 
Some of that is down to the materials, some of it due to following some simple principles. 
When we look at how cold works there are a few concepts to consider. Clothes do not warm you, they trap heat. A majority of heat escapes through the head. Wet clothes evaporate, wind convects, cold ground conducts and most heat radiates. When choosing clothing a wind-shell prevents convection and evaporation. A  skin layer (wool, silk, synthetic) moves sweat away from the body easing evaporation. Wool, fleece, and down layers trap air and prevent radiation. 
There are also some rudiments of the body's heating system to think about. Food converts into potential energy, powering movement. Blood carries heat along with oxygen. When you move you increase blood flow. When cold, the body protects the central organs and moves blood away from the extremities.
After years of playing around, I now have a pretty simple and bombproof system that I adapt to the season. I start by thinking about what I need to eat the day before and what food I need to carry. I also aim for constant movement through the day with little standing around if it is cold. (Choose your partners or dress for them!) My "foundational layering system" is a wicking layer next to the skin and then a wind shell over it. From there I can build up layers with wool, fleece or down depending on how cold it is. 
My choice is to wear a light synthetic hoody in the summer. This serves the additional benefit of having sun-blocking properties. The rest of the year I substitute this with a woolen hoody. Why hoodies? The quickest way to either gain or ditch heat is to cover or uncover our head. A hoody doesn't have a gap around the neck, I cannot lose it and I do not have to mess around looking for it. I never understand why a majority of outdoor garments don't have them. They also mean I do not have to wear so much sunscreen. A ball cap under the hood leaves only a few spots exposed to the sun's rays. I like wool because it shifts perspiration away from skin AND  insulates when wet. Now fibers and materials are combined it has superpowers.
My usual tactic of shopping for gear is to patrol the sales bins and cut-price websites. Every now and then I am in a hurry and splurge. This means I am usually looking for qualities in a product rather than a specific product. I come to brand loyalty only when I have experienced products doing what I want on several occasions. icebreaker has definitely come to that point with only two garments. I was provided the icebreaker Men's BodyfitZONE™ 260 Zone Long Sleeve Half Zip Hood and icebreaker Cool-Lite™ Incline Windbreaker. Testing product seems glamorous and a cheapskate's wet dream (well it maybe). The thing is you often get saddled with stuff you have no interest in using but have to write up. This wastes precious time and days out. Typically, when a test product arrives in the mail there is an initial excitement. Then I become very critical. 
Right off the bat I knew I was going to love the icebreaker Men's BodyfitZONE™ 260 Zone Long Sleeve Half Zip Hood. I was not so sure about the Windbreaker. Here are my thoughts. They follow a September day chasing turns at Rollins Pass. There were also several others hiking and backcountry skiing. At Rollins, the weather was great for testing as the temps were in the 50's but the wind was also gusting 50mph. The temperature felt all over the place. 
Icebreaker Men's BodyfitZONE 260 Zone Long Sleeve Half Zip Hood
Hands down my favorite skin layer period. When I can get away with wearing two thin layers during fluctuating temps and pace I am very happy. When there is a party of four, the pace is not always consistent. I put on and took off the hood and adjusted the zip a lot but I did not have to change layers. Fantastic. Add a lack of smell. Life is getting better. It is comfortable and came with that slight authentic wool prickliness. Nothing like the "Hairy Mary" wool shirts I wore in cadets. Two washes later that is gone and it feels super soft. Flat seams and a soft hand in the material go a long way. I love everything about this. The weight is perfect for all but the very hottest of weather. It breathes well and protects from both sun and cold. When I can avoid a sweaty back while working hard and wearing a backpack I am in heaven.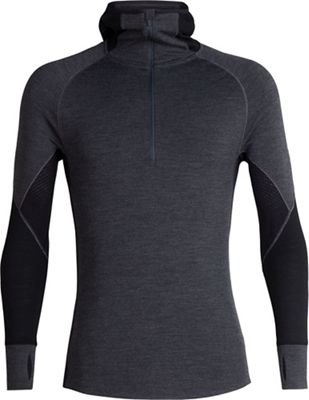 Icebreaker Men's 260 Zone LS Half Zip Hooded Top - Moosejaw
Icebreaker Cool-Lite Incline Windbreaker
Apart from misjudging my size, this is a keeper. Please learn from my mistake and use the online size selector when ordering. It is both unusual in the questions it asks and in its accuracy. I worried that it was heavier than my normal wind shirt so I would not want to use it. However, the added Cool-Lite ™, icebreaker's proprietary combination of merino wool and Tencel is magnificent. Tencel is derived from eucalyptus so both materials are completely natural. This combination blew me away with its ability to adapt to varying conditions.  
The Icebreaker Incline windbreaker alongside the 260 Zone, a mid to heavyweight merino component with strategic mesh breathability zones, will replace my current foundational layering system. I now use the Incline Windbreaker daily on my bike commute with a t-shirt underneath. My only irritation is the zip which has a short keeper. The pull tag is also small and awkward. It is always going to be a balancing act reducing weight by using lighter hard wear. This is too light for its intended use. It is irritating with gloves and I have popped the bottom out a couple of times. I also prefer adjustable wrist cuffs due to having big hands. Yet, I love how much heat this layer traps and generates and also how much it dissipates from key areas. It can feel like wearing a furnace when zipped up. No small achievement for such a light layer. I also enjoy the athletic aesthetic while also being very understated. It is great for wearing on my bike commute to work.
When you look more at both these layers you see how they work. The Incline Windbreaker has venting holes under the armpits and the liner only exists in key areas. The 260 zone utilizes different weaves in different areas of the body. Fabric use and placement on these garments is incredible. Outdoor clothing has come a long way. I used to shove a newspaper down the chest of my cycling jersey before starting a long downhill. I am so glad I have never had to entertain a temporary tattoo of Boris or Donald on my pecs. Maggie and Ronald were bad enough. 
Icebreaker Cool-Lite Incline Windbreaker - Men's | REI Co-op $200.00
So try it out. A wool base and a windbreaker as the foundation of your layering system. Hoodies are the bee's knees. And you will not go wrong by choosing Icebreaker. 
---
Wil was born in North Wales and steeped in its rich maritime, mountain and river folklore. In response to the request to "get a real job" he became first a teacher then professor of adventure education.
He then emigrated to where the sun shines for 300 days and snowfalls for 100 (Colorado). During more than 25 years as an outdoor educator, he worked Scottish winter seasons, taught canoeing, climbing, kayaking, and skiing throughout the States, Europe, and Australia. He also regenerated the University of Alaska Anchorage's Outdoor Education program. His biggest adventure (by far) is fatherhood. It has also been the inspiration for his website www.wherethefruitis.com.
Things he likes to do include (middle) aging gracefully, and skiing (telemark) aggressively. He is happiest outdoors with a good view, good company, good weather/snow and the residue of self-powered adventure; sweat, a manic grin, and wild eyes.