Obermeyer Jette Jacket: A Minimalist Ski Jacket with Maximum Details
Obermeyer Jette Jacket: A Minimalist Ski Jacket with Maximum Details
In a ski jacket world of overflowing with graphic prints and trends, be minimalist.
Rarely do I come across a ski jacket that I want to keep for more than a couple of seasons. For various reasons (pockets, color, style, technology, etc.) I like to often change things up.
Obermeyer Jette Jacket Review
This season, however, I discovered a keeper in the  Obermeyer Jette Jacket (MSRP $299).
The Jette is deconstructed simplicity. In a time when ski wear is heading towards bright color blocking in patriotic colors or 80s neon, the minimalist Obermeyer Jette caught my eye. 
Obermeyer Jette Jacket - Women's

First of all, it was one solid color- even the fully seam-sealed zippers. Not the flashy zippers of yore that, from a distance, resembled shiny metallic Frankenstein stitches. Secondly, it was the perfect shade of red- not too blue, orange, or pink.
The insulated Jette is packed with features that are mostly hidden to maintain its sleek appearance. 
For days on the slopes when the weather changed on a dime, the active fit Jette fully seam sealed 15,000mm waterproof-breathable lamination had my back with a removable/adjustable hood; water-resistant Snap-Away powder skirt with elastic hem; adjustable cuffs; thumbhold inner cuffs; adjustable hem; and fleece-lined collar.
 Obermeyer is all about the convenience when they thoughtfully included a detachable, scratch-free goggle cloth (honestly, I use it more to wipe down my phone before I take ski photos); zipper chest pocket, zipper hand pockets (these are delightful because they're lined with soft fabric), subtle reflective detail, and what can best be described as a double mesh pocket in the interior (one narrow long one that I use for media cords, and a wide one with attached goggle cloth).
I wore this jacket in a variety of ski conditions- extremely cold and near white out conditions (having that bright red color for visibility was definitely a plus) to bluebird, and each time, it performed well. My only complaint (and it is minor) is that I wish it was a tad longer. But perhaps that is because I was wearing a petite size, rather than regular.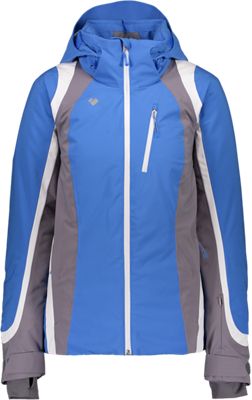 Obermeyer Women's Jette Jacket - Moosejaw
In addition to skiing, I sometimes wear it to work when I bike in, and wore it last week on a snowshoe trip to Brainard Lake.
In a sea of bedazzled ski jackets, bravo to Obermeyer for producing an outstanding simple jacket that allows minimalists everywhere to rejoice.