Vasque Alchemist XT Boot Review – Sneaker Looks, Boot Performance
The brand new Vasque Alchemist XT Boot $140 is a very good-looking sneaker-like boot. They still feature a legit tread that looks just like the one on the Breeze LT (which I am a big fan of).
Vasque Alchemist XT Boot Review
We have been doing quite a bit of work with Vasque the last year.  Especially the last few months. The reason is that we are big fans of them and they offer a nice range of hiking and backpacking boots and shoes, for men, women and children.
Of all the boots we are testing for Vasque, the Alchemist XT jump out as the most stylish. Even my wife was taken back by the aesthetics! What is cool about these boots, is that they look a lot like a sneaker, yet have all the features you want in a legit boot.
Waterproof
These boots have an UltraDry waterproof breathable membrane to keep the moisture out. This is a good WPB membrane and has not let us down yet. You save a few dollars with not having an GoreTex WPB membrane too. Score!
Great tread
The tread is one of my favorites.  It reminds me of the tread on the Breeze LT GTX boots and shoes (review here) that I love.  This tread provides really good traction on dirt, mud, snow, ice, and everything in-between. It is not too bulky and looks very cool as well.
Comfortable
Out of the box, these boots fit great.  I used them for a 12 hour day of work in variable conditions (part inside at our gym, part outside in the snow).  I took these boots winter camping and used them for all kinds of errands in the random weather that March brings to Colorado.  They feel great!
Accurate sizing
The sizing is spot on.  I am using a size 12 and medium to thick socks.  I am usually a size 11.5 and I bet I could have gone with an 11.5 and been fine.  But I like having just a little more space so I can wear thick merino socks.  For comparison, the Breeze LT GTX felt more narrow and a 1/4 size smaller than labeled.  The Talus XT felt a bit wider.  I hope that helps you with figuring out how they fit!
Who the Vasque Alchemist XT Boot is for
I can see this being a great boot for a person who wants a good looking boot for urban use in wet conditions.  But, could find themselves on a weekend hike or random adventure.  These are fully capable hiking boots that look just at home on a date or casual use.  It is nice to see a legit hiking boot that does not look like it.  Good looks, good performance and comfortable.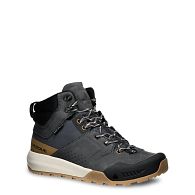 Alchemist XT UltraDry™ | Vasque